[ad_1]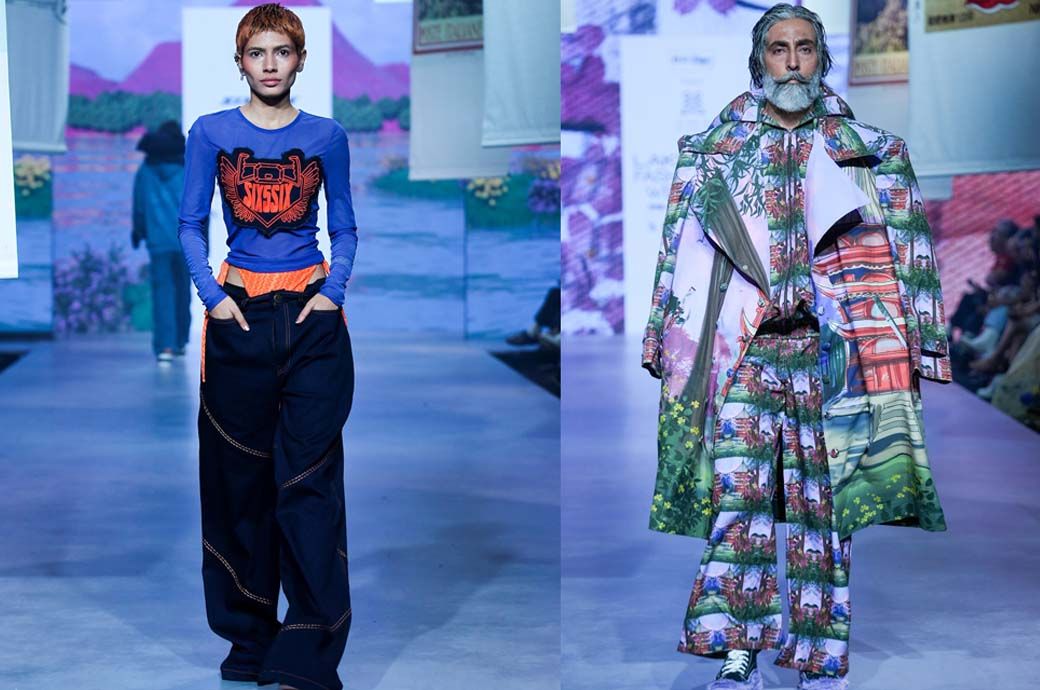 India's leading integrated polyester manufacturer Reliance Industries Limited's (RIL) R|Elan Fabric 2.0 returned to Lakme Fashion Week (LFW) in partnership with the Fashion Design Council of India (FDCI) and presented streetwear masterpieces by labels Two Point Two by Anvita Sharma and Six5Six by Avni Aneja on Friday.
'A Warrior's Journey' by the Two Point Two label created by Anvita Sharma made a strong, gender agnostic, fashion statement that could also be understood as an all-inclusive, sustainable description for the brand, at LFW in partnership with the FDCI, the involved parties said in a press release.
R|Elan Fabric 2.0 with FDCI presented collections by Two Point Two and Six5Six at LFW. Two Point Two's 'A Warrior's Journey' collection was inspired from Japanese martial arts philosophy and used R|Elan's eco-friendly fabrics. Six5Six's 'The Uniform' collection offered vacation streetwear options with R|Elan's recycled polyester and slub jersey.
Anvita felt that a warrior exists in everyone, so the label took its inspiration from the Shu-Ha-Ri philosophy of Japanese martial arts. Bringing together all the teachings of Shu-Ha-Ri into the collection, there was a great amalgamation of Japanese streetwear that combined energy, creativity, and individuality in the looks.
Keeping the sustainable aspect of the garments firmly in focus, Anvita worked with R|Elan high performance, eco-friendly fabrics like Kooltex, Greengold, and EcoGold. The colours were as vivid as the theme, when the portrait series of the prints featured traditional, intricate, hand drawn images of Samurai warriors. There were hints of Japan's most famous art form—the Kabuki dance drama theatre—visible on the outfits.
Printed co-ord sets were topped with knee-length robes that sported giant lapels. The giant profiles of Japanese faces were emblazoned on the back of vividly printed calf length covers. The silhouettes were baggy and almost over sized, to fit the requirements of a wide variety of buyers of all genders.
Drama, colour, and great portrait prints made the 'A Warrior's Journey' collection a memorable presentation on the runway and a striking one to stock in wardrobes for the coming season.
"We are super happy to have showcased our new collection 'A Warrior's Journey' in association with R|Elan using their amazing high-performance fabrics specifically the Kooltex denim as breathability of the fabric is the most important factor for me personally. It's a very ecstatic feeling to see that streetwear and young experimental brand like ours are getting importance in mainstream fashion with big partnerships and associations like R|Elan and it is always nice to be able to return and showcase our art at such an important platform like LFW X FDCI. As a designer, Japanese culture is truly very inspirational whether it's their art, theatre, or subcultures. This collection is an ode to all those things that I admire in the form of my own personal expression," said Anvita Sharma of Label Two Point Two.
What should one pack when going on a holiday has often baffled the eager traveller. Six5Six label's 'The Uniform' collection by Avni Aneja unveiled at LFW in partnership with FDCI, offered easy yet fashionable choices.
Ever since 2018 when the label Six5Six was launched, it has been at the forefront of fashion and a hot favourite with celebs and stars. This season the brand's inspiration was from the many postcards as well as photographs taken during the travels by the designer.
It was evident that here was a vacation streetwear look that would be adored by the jet set adventurer since a vacation wardrobe must be practical and sturdy but very stylish. The brand kept its fashion statement firmly in focus, for apparel that could be lived in or stepped out in style. Comfort was brought in with denim, while oversized resort shirts were the ideal option for sturdy clothing.
There was a wide assortment of multi-purpose jackets with immense mix and match possibilities, while the practical bombers added a touch of pizzazz. The fabric choice was R|Elan engineered smart fabrics that comprised denim recycled polyester, recycled slub jersey that was embellished with bio washing screen printing, embroidery, deconstruction, and sublimation printing.
"I'm super happy to be back at LFW in partnership with FDCI after a long break. And what better than to be able to work in collaboration with R|Elan and their incredible sustainable fabrics! My collection is titled SIX5SIX 'The Uniform' and it is testament to the fact that sustainable fabrics don't translate into boring clothes. This collection is the tale of all my travels, inspired by postcards, anecdotes, and images I have collected over the years of my travels around the world. It is extremely personal and dear to me," said Avni Aneja of Label Six5Six.
Commenting on the collaboration, Hemant D Sharma, sector head-polyester, RIL, said: "At Reliance, we are committed to enabling production of world class sustainable and eco-friendly fabrics, capturing the latest trends and style. The showcase of R|Elan smart fabrics at LFW is a testament to our dedication in promoting sustainable fashion in the industry. We are thrilled to showcase our R|Elan smart fabrics, which are functionally high performance and eco-friendly, in these collections. We are proud to have provided our Kooltex, GreenGold, and EcoGold fabrics, which are not only of the highest quality but also environmentally conscious. It was a delight to see 'A warrior's Journey' collection, that is inspired by the Kabuki dance drama theatre and 'The Uniform' collection made using R|Elan engineered smart fabrics."
Fibre2Fashion News Desk (NB)
[ad_2]

Source link