[ad_1]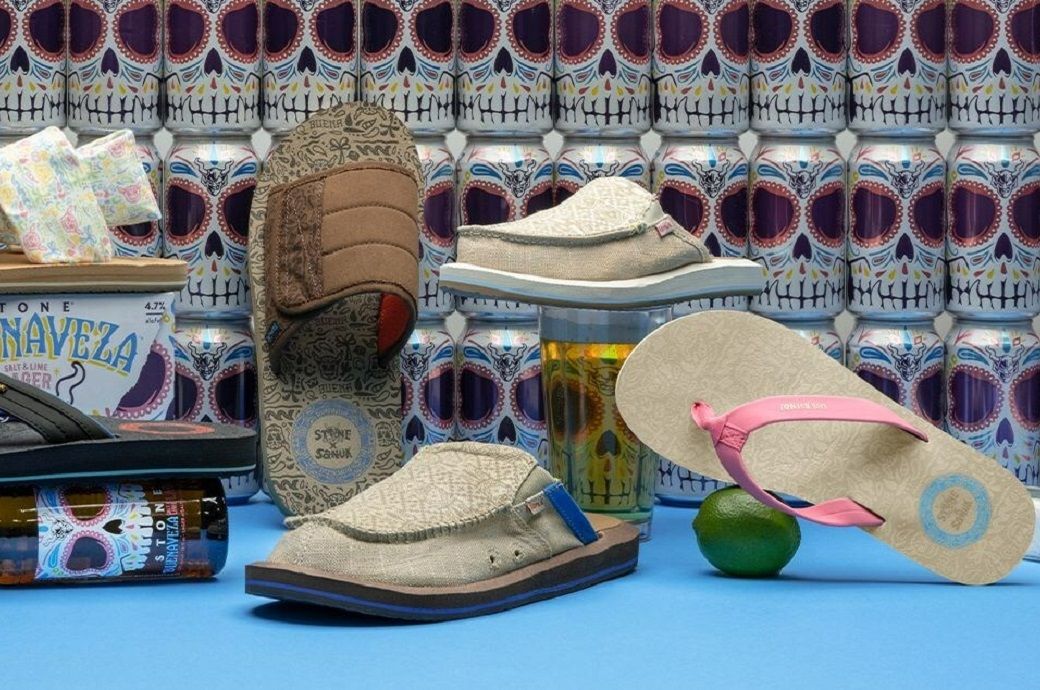 Sanuk, a division of American footwear company Deckers Brands, has teamed up with San Diego-based craft brewery Stone Brewing for a limited-edition capsule collection. The fresh, earth conscious collaboration celebrates the Southern California 'Live Buena' lifestyle.
Fresh out of the tap, this Sanuk x Stone Brewing collection features a six pack of classic styles with custom artwork, vibrant Stone Buenaveza-inspired colours, and tastefully co-branded moments, Deckers Brands and Stone Brewing said in a joint press release.
The collection's premium men's and women's summer styles are made with natural materials like hemp, recycled plastic, and rubber, along with bio-based materials like Bloom foam.
Deckers Brands' Sanuk has partnered with Stone Brewing for a limited-edition footwear collection that celebrates Southern California's 'Live Buena' lifestyle. The collection includes summer styles made from natural and eco-friendly materials like hemp, recycled plastic, and Bloom foam. The designs feature custom artwork and co-branded moments.
Sanuk Sling ST x Stone women's sandal is decked out in colourful, custom Stone Buenaveza graphics with waves, palms, cacti, gargoyles, and lotus flowers printed on the stretch knit sling upper strap crafted with Unifi Repreve Our Ocean fibres sourced from bottles at high risk of entering the ocean, a high rebound footbed with arch support and a recycled sponge rubber outsole.
Sanuk Ashland ST x Stone is a water-friendly women's flip flop featuring a tonal Sanuk x Stone Brewing printed footbed and a pop of colour pink Lycra upper strap, with a high rebound footbed made with Bloom x Soft Top Foam and a recycled sponge rubber outsole.
Sanuk You Got My Brew ST x Stone men's and women's Sidewalk Surfer offers a classic transitional style for day to night comfort, including a 100 per cent hemp upper, contoured leather lined footbed featuring Bloom x Soft Top Foam with custom co-branded geometric graphics.
Sanuk Ziggy ST x Stone water-friendly men's sandals are decked out with bold accents and a tonal Stone Buenaveza printed footbed. These sleek sandals feature a synthetic leather upper strap and a supportive footbed made from Bloom x Soft Top Foam.
Sanuk Bixby x Stone men's sandal features a new water-friendly design. It now has an ultra-soft printed footbed on high rebound Bloom x Soft Top Foam midsoles and an adjustable hook and loop closure for comfort.
"As two brands with synergistic missions and San Diego roots beginning in the 90s, teaming up with the good humans at Stone Brewing just made sense," said Katie Pruitt, brand director at Sanuk. "This collection embodies the ethos of both Sanuk and Stone Brewing by delivering innovative, quality goods, with tasteful design details and superior comfort for that beach-day-mindset, no matter where you are."
"When we released Stone Buenaveza Salt & Lime Lager, we couldn't wait to bring its 'Live Buena' spirit to life beyond the beer itself," explained Erin Smith, VP of marketing at Stone Brewing. "Sanuk's capsule collection embodies that laidback, active SoCal lifestyle and does so with an eco-conscious commitment that speaks to our shared brand values."
The Sanuk x Stone Brewing capsule collection is now available at Sanuk's website and in store at all Stone Brewing Tap Rooms and select premium retailers.
Fibre2Fashion News Desk (NB)
[ad_2]

Source link